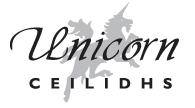 Risk Assessment Overview
As our customers are already aware, we at Unicorn Ceilidhs put safety first. As we move to re-open our now twenty-year-old Ceilidh Series, we would like customers to know about the precautions that we have put in place to keep everyone safe. So, please read the following carefully:
As of mid August 2021, the UK government report that over 75% of the adult population of England (from where almost all of our customers come) are double-jabbed, suggesting that there is now a good element of Herd Immunity on which we may rely to reduce the chances of anyone present catching Covid-19, of passing the virus on and of becoming seriously ill if they become infected.
Please feel free to wear a face-covering.
We are asking bands and callers to to provide a suitable programme of dances. If you feel safer, keep your dancing partner(s) at a greater-than-usual distance. Please scan the Track & Trace QR code with your NHS Test and Trace App, so that you can help stem the spread of the virus. If you don't use a smart phone, please fill in the Track & Trace form at the front desk.
The virus can be caught more easily indoors than outdoors, so the hall will be ventilated as well as possible, by opening all windows and doors during the evening.
We would prefer entry to the event and bar sales to be by contactless card to reduce the risk of spreading the virus on notes and coins.
The Raffle will still use cash, so the raffle ticket seller will wear disposable, vinyl gloves. If you bring a couple of £1 coins, you won't need any change. Raffle tickets are printed on un-laminated paper and it is unlikely that viable viral particles can be transferred on the tickets.
Thank you for your support and assistance in keeping the virus at bay, and we hope that you will enjoy brilliant ceilidhs with us.
Top of Page