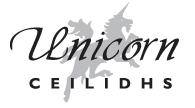 How We Treat Your Data
In common with many organisations, we hold an email list with your address on it. This list has been compiled over the last 17 years, and is only used by Unicorn Ceilidhs to publicise and remind you all of forthcoming events.
We will never sell the list, or use it for any other means - as I expect you would hope, from a professionally-run organisation.
To comply with the new law, we have to let you know that, and other relevant items such as how to delete your details, and how we store and protect the data. All the detail is contained in a Policy & Process document together with instructions on removing your details, which are available via the links below.
Our intention is to keep sending you the details of events, generally about 2 weeks and 1 week beforehand.
Full Policy & Process
Procedure For Deleting Personal Details