Site News
New dates until next June now on Programme Page. Please update your diaries and calanders as soon as you get a chance.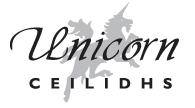 Welcome to Unicorn Ceilidhs Web Site
We are dedicated to providing high-energy ceilidhs for discerning dancers of all ages. Ceilidh dances are fast-paced, easy to learn, great fun - and addictive! Clear instructions from the caller before and during the set, allow anyone to join in and enjoy the dancing. Dances are held on the last Friday of the month, where possible, with seasonal breaks for summer and Christmas.
Our combination of the finest live bands, top callers, local real ale and splendid venue, guarantee an excellent, fun-filled evening for all.
Please follow the links on the left of the screen to find out more about Unicorn Ceilidhs.
Our New Venue
November will see us at St Mary's Church Hall which is located a stone's throw, behind the church, from the Town Hall in Baldock. This will be our home for the foreseeable future. We will be putting up signs to direct you from the Town Hall.
We've change our dates to the second Friday of the month (mostly) from September. See programme page for a full list of dates up to June next year.
Site last updated 25/05/2016 Webmaster:
Top of Page