Site News
We're looking forward to some great contra this month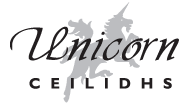 Welcome to Unicorn Ceilidhs Web Site
We are dedicated to providing high-energy ceilidhs for discerning dancers of all ages. Ceilidh dances are fast-paced, easy to learn, great fun - and addictive! Clear instructions from the caller before and during the set, allow anyone to join in and enjoy the dancing. Dances are held on the second Friday of the month, where possible, with seasonal breaks for summer and Christmas.
Our combination of the finest live bands, top callers and a bar serving local Real Ale and Cider plus wine and soft drinks guarantee an excellent, fun-filled evening for all.
Please follow the links on the left of the screen to find out more about Unicorn Ceilidhs.
Site last updated 28/03/2022 Webmaster:
Top of Page